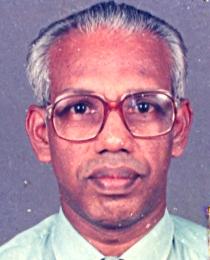 K. M . Cheriyan Mumbai – A tribute
Bro. K. M. Cheriyan 77 who went to be with the Lord on last Friday (12/2/2010) in Mumbai, has left behind a wonderful testimony for the Lord. The large crowd who attended his funeral on Tuesday (16/2/2010) was an evidence of his silent yet powerful influence in the lives of God's people in Mumbai and around.

He was born and brought up in Kunjachedathu family at Elanthoor, Kerala. He came to Mumbai in 1958 and worked with Gospel Literature Service till he went to Bahrain in 1975. After ten years of service there he returned to Mumbai and joined GLS again.

He was one of the elders of Zion Christian Assembly, Sion, Mumbai. He was not a preacher but as Bro. Silas C Nair put it 'a man who made his preaching with his life'. His life spoke truths much loudly than his words. This is evident to all who would listen. His life shall continue to speak!

He was a strict disciplinarian. For any programme he used to reach before time. He would not hesitate to point out errors immediately in a loving manner. No wonder the young believers of his assembly lament that who will correct them when they err now.

Bro. B. A. Thadke, one of his co-workers in GLS testified that Bro. Cherian never made any cause for a friction among the workers. With a smiling face a loving pat on the back he would deal with his fellow workers.

One of the outstanding qualities of Br. Cherian was his burden for spreading the gospel of Jesus Christ. Literature evangelism was his passion. That's why even after retirement he continued to work for Gospel Literature service for three more years. In fact till the day he left for glory he used to visit GLS press in connection with literature printing or distribution.

He used to print gospel tracts in various languages and distributed all over Mumbai. When his funds were exhausted, without any hesitation he sold the pure gold medal that he was awarded for being the best worker in his firm in Bahrain, and paid for printing tracts. It was revealed by the then Managing Editor of GLS, Bro. Babu K Varghese.

For the evangelists in Mumbai his departure is a loss. He was co-worker to all of them. He visited the houses of every evangelist and associated with them actively in their outreach activities. Whenever evangelists needed tracts, he was there to make it available. Even when he became sick and could not go to far off places he would go out every day with gospel tracts and distribute in the near by places. He carefully sorted out tracts of various titles so that the recipients will get the message of Christ clearly.

Even on the last moments his life on earth, he was discussing about tracts to distribute. On that day also he visited GLS and brought a bundle of tracts to be sent to his younger son for distribution in his workplace.

Many paid rich tributes to this man of God who quietly but effectively served the Lord in Mumbai for half a century.

Let us continue to uphold dear sister Annama Cherian who is not keeping well. His elder son Benny works with Railways and fellowshipping with Kalyan Assembly in Mumbai. Second son Sunny lives in the US with his family, younger son Saji works with Air India in Cochin and worships with Palarivattom Assembly. Daughter Lizy works with Income Tax department and fellowships with Zion Christian Assembly.
The mortal remains of dear brother was committed to grave on 16th Tuesday evening with the hope of resurrection in the presence of many saints.
May the Lord comfort the bereaved and help each one of us to follow the footsteps of this child of God and continue in the service of the Lord.
NTK with inputs from Thomson B. Thomas