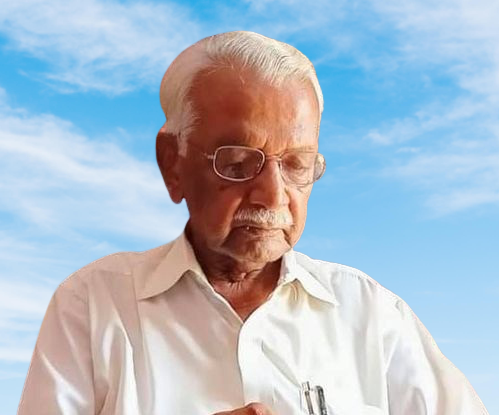 A Tribute: Lewis James Samraj (3rd April 1930 – 16th July 2021)
Uncle Lewis James Samraj who went to be with the Lord on 16th July 2021 is one of the few who have influenced me tremendously in Christian life and ministry.
My personal contact with uncle began at ABTI, Madras (now SBC, Chennai) in 1984, when he came to teach us from the gospel of John. His unique way of teaching attracted all of us, and somehow from thereon a special bond developed between us. I still remember, just before returning to Bangalore after his series of classes, uncle called me aside and made a special prayer for me. He maintained this care and love all these years.
I fondly remember the occasions when we could serve the Lord together in Andhra Pradesh as well as Mumbai. We as a family enjoyed his stay with us. One of his habits we noticed was that he used to get ready early in the morning and wait at the drawing room, maybe to give the family easy access to the room. He used every opportunity to share his convictions and encouraged us by way of example to follow the same.
His commitment
When we reflect upon Uncle Lewis's life, one thing that stands out is his commitment. He was not just an able Bible teacher and preacher, but one who was absolutely committed to the New Testament church principles.
When many in the past thought it convenient to compromise for temporary gain, he stood firm by his principles till the end. We understand that the teachers of Clarence High School and the godly elders of the Bethesda Assembly molded him in such a way.
His communication style and language was exceptional. Once while translating his message into Hindi he corrected me, only then I realized that he was well-versed in Hindi too.
Not only about spiritual things, his commitment toward his family is also notable. When he was just 37, his wife went to be with the Lord. Along with his five-year-old son he initially continued in North India for the Lord's work, but later returned to Bangalore. He continued to live alone taking care of his son. When someone suggested him of a remarriage, his response was, 'I may get a wife, but my son will not get a mother'.
In 2013, the Lord gave me an opportunity to visit dear uncle Lewis in Bangalore and spend few days with him. It was a very refreshing time for me. His godly counsel on various matters gave me new light and energy. His zeal and discipline even at the age of 83 challenged me. I saw him getting up very early in the morning and doing all the work at home alone, including cleaning and cooking. Even he took me on his bike for a city ride.
His Faith
During our conversation, he spoke of God's miraculous provisions for him and his family in the past. Leaving Burma (today Myanmar) his birth place as a twelve-year-old boy with his siblings and mother, they rented an accommodation in Bangalore, and later resigning from his job for faith-based gospel work in North India, in all those situations, he found the divine hands underneath. God faithfully and wonderfully provided; he never had to disclose his needs to man, even for a place to stay.
My repeated effort to take a picture of him was in vain. Even my suggestion to publish his notes for the benefit of many also was not taken very pleasantly. All this shows his hesitation for any recognition or applause.
His departure
Uncle Lewis had invited a brother from the assembly for a meeting at home for Friday, 16th July morning 9:30. The brother reached uncle's place at the right time, but there was no response from inside. After failing every effort to know his whereabouts, our brother managed to reach uncle's bedroom, only to find him lying on his bed well-dressed. Uncle Lewis had already gone to be with the Lord, whom he loved and served with extra-ordinary devotion.
Brother Godly Daniel, Bangalore writes, "The last day of his life was a fitting finale to the way that he lived all his life."
Uncle M. T. Thomas a long-time friend who lives in the same locality says that on Thursday, Lewis visited them and unusually spoke a lot especially regarding his son and grandchildren with complete satisfaction. They both prayed together and he left. On Friday morning, uncle M. T. Thomas called him as usual but there was no response. He says, 'just like in the case of Enoch, God took Lewis to Himself'. What an end to a wonderful life of faith and commitment!
Definitely, we can say as Apostle Paul writes that dear uncle has 'fought the good fight, finished the race and kept the faith', and has gone to be with his Master, whom he served faithfully all these years. May the Lord challenge us to be faithful to the light we have received and be filled with hope of the soon coming Lord Jesus Christ.( NTK )